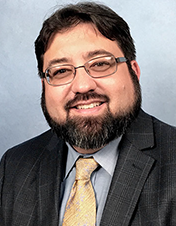 H. Stephen Bralley, M.Ed.
Director of Secondary Education, North American Division
H. Stephen Bralley has been an Academy Bible and History teacher, Boys Dean, Boarding School Principal, K-8 Principal, Elementary Teacher, and Superintendent.
He has been described as an "inspiring and inspired educator"; with 25 years of experience in youth ministry and education.
He has demonstrated an ability to lead and to teach in a genuine and thoughtful manner.
He holds a Masters degree from Pepperdine University in Educational Technology and co-founded teachSDA.
uring the 2023 NAD Educators' Convention, a series of six short videos highlighting significant turning points in Adventist Education was shared. This was a collaboration between NAD Education and NAD Archives, Statistics, and Research. We have a rich and diverse history in Adventist Education with significant points in its development that has shaped its influence today. From the mid-1800s to today, Adventists have created the largest Protestant education system in the world. Adventist schools can be found in nearly 150 countries, 85,000 teachers, 1.5 million students, 7,500 schools. We hope that the introduction of these videos will help people recognize the amazing impact of Adventist Education and allow us to fully embrace our role in evangelism and ministry. We believe these first videos will leads to more stories produced in the future highlighting significant moments through our history.
You may find them here:
How could this earnest group of believers go from vehemently denouncing education to building one of the world's largest private education systems?
The least appreciated man, Goodloe Harper Bell, the first Adventist educator.
Adventist Education Turning Points
View the complete Turning Points series and additional videos at adventisteducation.org
FAll 2023
Adventist Education becomes too successful in the 1870s, but they lacked a cohesive plan, an unlikely advocate shapes Adventist Education into a unique ministry of wholistic learning.
Adventist Education in crisis, the rapid growth leads to disagreements on direction of its future.
A decade after the crisis, apathy creeps into Adventist Education. An Education Convention helps revive the ministry and clearly forged the distinctive teaching philosophy of Adventist Education.
Adventist Education becomes unbalance and fights irrelevancy. How could Adventist schools reach their full potential?