he University of Copenhagen released a study recently, one of the conclusions, "Internet searches related to prayer in 75 countries skyrocketed to their highest levels in five years in March." The uncertainty in the world today is leading millions to seek answers from those who profess faith; can we answer?
This search has been reflected in discussions during meetings with the Council for American Private Education (CAPE). Interest in private schools of faith has increased over the summer, we will have to see if that interest leads to increased enrollment. Either way people are searching and we have an opportunity to make contact and a lasting impression. Is our faith, hope and love strong enough to make a lasting impression during a school tour or a phone conference? Are our students so filled with good news they radiate the impression that they have something better? The Bible says that when Moses left the mountain the people knew he had seen God from his countenance. Could we aspire to know and be known the same?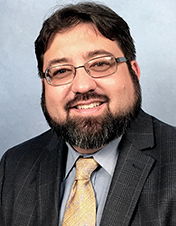 H. Stephen Bralley, M.Ed.
Director of Secondary Education, North American Division
H. Stephen Bralley has been an Academy Bible and History teacher, Boys Dean, Boarding School Principal, K-8 Principal, Elementary Teacher, and Superintendent.
He has been described as an "inspiring and inspired educator"; with 25 years of experience in youth ministry and education.
He has demonstrated an ability to lead and to teach in a genuine and thoughtful manner.
He holds a Masters degree from Pepperdine University in Educational Technology and co-founded teachSDA.
"Peace I leave with you, my peace I give unto you: not as the world giveth, give I unto you. Let not your heart be troubled, neither let it be afraid." John 14:27 KJV
"But ye shall receive power, after that the Holy Ghost is come upon you: and ye shall be witnesses unto me both in Jerusalem, and in all Judaea, and in Samaria, and unto the uttermost part of the earth." Acts 1:8 KJV
FALL 2020
"So roll up your sleeves, put your mind in gear, be totally ready to receive the gift that's coming when Jesus arrives. Don't lazily slip back into those old grooves of evil, doing just what you feel like doing. You didn't know any better then; you do now. As obedient children, let yourselves be pulled into a way of life shaped by God's life, a life energetic and blazing with holiness. God said, "I am holy; you be holy." 1 Peter 1: 13-16 The Message